Snacks and birthday treats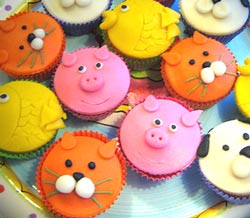 Having snacks, birthday treats and sweets on your birthday is really a must and always a lot of fun. Giving away snacks to your friends, invites colleagues or claasmates is a common tradition in many countries in the world. Especially young children have a lot of fun giving away a little something on their schools when it's their birthday.
Making birthday treats yourself can be most rewarding. Baking and combining what you like to give away is great. And theming your own party treat can be really unique.
Try to look for a birthday treat that is easy to carry, make or order. En make sure you have enough to give away so you don't have to dissapoint anyone on your birthday party.
Sweets, snacks and treats to give away on your birthday
The options for birthday treats are plenty. From chips or sweets to homemade little cakes or icecream.
A few examples that might lead you in he rigt birthday treat:
lollypop birthday treats, maybe simple and small or big fun lollies.
homemade cake snack, make it yourself and share your art at baking!
cupcakes as a birthday treat, great to make cakes in a special theme
homemmade snacks with cheese and sausage, with a little flag in it
candy, in a nice bag, great kid give away treat
birthday pie, in all shapes and sizes
chips birthday treats, little bag give away
champagne (there is non alcoholic kids champage to)
My treat story
Jennifer: 'I like to make cookies to bring to school when it's my daughters birthday. But last year she said to me: Why can't we have hamburgers instead of cookies this year mom. Well, gues what. We did just that. My husband fired op de grill and whe went on grilling mini hamburgers, and brought them to school on lunch break time. Mini buns and some garnish and ketchup to go with it. It was a lot of work, but a great succes!'
Hopefully there is a treat idea that suits your birthday party. There are more examples to be found, too much to name on this page for now. But maybe our list above inspires you to come up with your own great birthday snack and treat solution!