Kids birthday celebration tips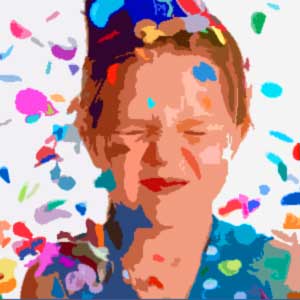 The must fun birthday parties are the birthday celebration of young children. De options for a party ar plenty and there is lots of information to organize a special kid birthday party with a kid party theme.
You can organize the birthday party very well in your own home or garden but you can also visit a nearby park or playground Kids will always find a fun time when they play together. Giving them some direction in the way you decorate a garden or playgroud can make it instantly great.
Think about mini games and some attributes like a tent, kids bowling alley, basket or some other intresting playground filler to make them run and scream from excitement.
We try to give you an idea of all the kid party options for a succesful birthday party for your children.
Birthday party tips for kids
A few pointers to a great kid birthday party:
Think about the number of kds to invite to the party. Make sure you have enough supervision.
A way to determine the number of childern to invite is to simply take the number of the age the birthday kid is becomming and use that as a guide to the total number. Remember that the smaller a child is, the more overwelming a big group of children on a birthday party can get. It is also more difficult to keep the attention of the whole group when you have a theme party or some birthday party games.
When you give out invitations, it's nice to be a little discrete about it. Especially handing out invitations in a classroom can bring a lot of disappointment to te kids that are not invited (this time).
If you organzie games at the birthday party where kids can win a little something, you should think about letting everyone win something or try to make it so all the kids collect different prices or candy and devide it equally later.
There are lots of party decorations and fun things you can find in specialised shops. For example you can order your own stuffed pinata on the internet.
A birthday party where kds kan dress up is always a great and fun idea. There are lots of options and locations where you can combine this with great birthday party themes.
Maybe you can hire some inflateble castles or other fun kid playground stuff.
Think about using plastic cups and plates, maybe in fun theme colours. Also a very smart trick to clean up quick and easy at the end.
JYou can mix lemonade in big bottles so there is always enough to drink and it is accessible to the kids. It's a birthday party, there should be snacks and drinks to grab!
Make sure you have all the phone numbers and adresses of the parents of the kids at the party. Just in case there happens something unsuspected.
You can ask kids in advance to come to the party dressed in a theme. The fun starts right away and the theme is set in an instant.
Well, have fun with organizing your kids birthday party!
No clowns
Dennis and Amy: 'Hi there, we are neighbours, Dennis and Amy. We like to tell you wat we did not like. We are both 6 years old. We both don't like clowns! Last year Amy had a clown party and it was a little scary. Parents. Please, please do not get clowns for little kids like us if we do not ask for it!'